Michiel Luijten, PhD
Department of Child- and Adolescent Psychiatry & Psychosocial Care
Amsterdam UMC
Thanks to the ISOQOL 2022 conference committee for selecting my abstract as a poster finalist and allowing me to summarize our findings in this QualityTALK newsletter editorial.
In late 2019 and early 2020, the world was shocked by the outbreak of the COVID-19 virus. A rapid spreading virus that causes (potentially deadly) respiratory problems. Little was known about the virus at the time, which resulted in full measures being taken to control the spread of the virus worldwide. The Netherlands went into a "partial" lockdown on the 15th of March 2020 (see Figure 1). People were requested to stay inside and work from home and to keep a minimum distance of 1.5m from others. All schools and childcare facilities were closed, as well as sports and leisure facilities, bars and restaurants. For both adults and children, this resulted in physical isolation from others, which may have not only caused feelings of loneliness but could also result in precarious situations for children in unsafe domestic households. The outbreak itself could possibly cause feelings of anxiety or sleep deprivation due to worries.
To assess the impact of the pandemic on Dutch children and adolescents in the general population, we immediately selected a collection of patient-reported outcomes (PROs) that assess relevant domains of mental and social health and included a measure of overall health. Since we were also collecting data in pediatric patients in the Emma Children's Hospital and in children with psychiatric disorders, we required instruments that were applicable to multiple populations. We choose to use the Patient-Reported Outcomes Information System (PROMIS) scales and item banks administered as computerized adaptive tests (CAT) to measure the PROs reliably, and with minimal burden for participants. In 2018, we collected Dutch reference data for these instruments in a representative general population sample, as part of my thesis on standardizing patient-reported outcomes within pediatrics, which we could use as independent comparative data. We collected data in a general population sample of approximately 1000 children through the KLIK PROM portal (www.hetklikt.nu) on anger, anxiety, depressive symptoms, sleep-related impairment, peer relationships and global health. We performed biannual assessments from April 2020 until April 2022 for a total of five measurement occasions.
During the lockdown in April 2020, children reported worse scores on all domains assessed except global health, compared to 2018. Almost twice as many children reported severe anxiety problems and sleep-related impairment during daytime. The children mentioned that they missed their friends and family. Worse mental and social health of children during lockdown was associated with family composition and loss of income for the family.
In November 2020 and after the second measurement occasion, we evaluated whether the social and mental health of children recovered to pre-COVID-19 levels due to more lenient lockdown measures.  Specifically, we assessed the internalizing problems of children during the pandemic in the general population as well as a psychiatric sample. There was no significant decrease in anxiety or depression during the second measurement for either sample.
The current abstract, which I will present as a digital poster at ISOQOL 2022 in Prague, provides us with an update of all measurement occasions up until April 2022. Over time lockdown measures have become more lenient, and in April 2022 all had been lifted and children were more or less able to live their lives as they did pre-COVID-19. In the general population, we saw that by April 2022, children reported fewer problems on all the domains than during any other measurement occasion. Peer relationships have returned to normal (pre-COVID) levels for the first time. However, children still report more anxiety, depressive symptoms and sleep-related impairment when compared to pre-COVID-19. Therefore, it remains important to monitor the mental and social health of children to ensure that children receive the support they need.
These conclusions are also of importance to any reference data collected of new instruments during the past several years. Further research is required to determine whether reference values collected during the pandemic are still representative in the future.
This research has been funded by Stichting Steun Emma Kinderziekenhuis, the National Health Care Institute and the Netherlands Organization for Health Research and Development and collaborates in the Dutch consortium Child and Adolescent Mental Health and WellBeing in times of the COVID-19 pandemic (CAMHWB-19) with the DREAMS (Dutch Research in child and Adolescent Mental health) cohort, the Netherlands Twin Registry and the Learning Database Youth to provide a valid image of the impact of COVID-19 on the mental and social health of children and adolescents in the Netherlands. Our latest results have been recently released as pre-print.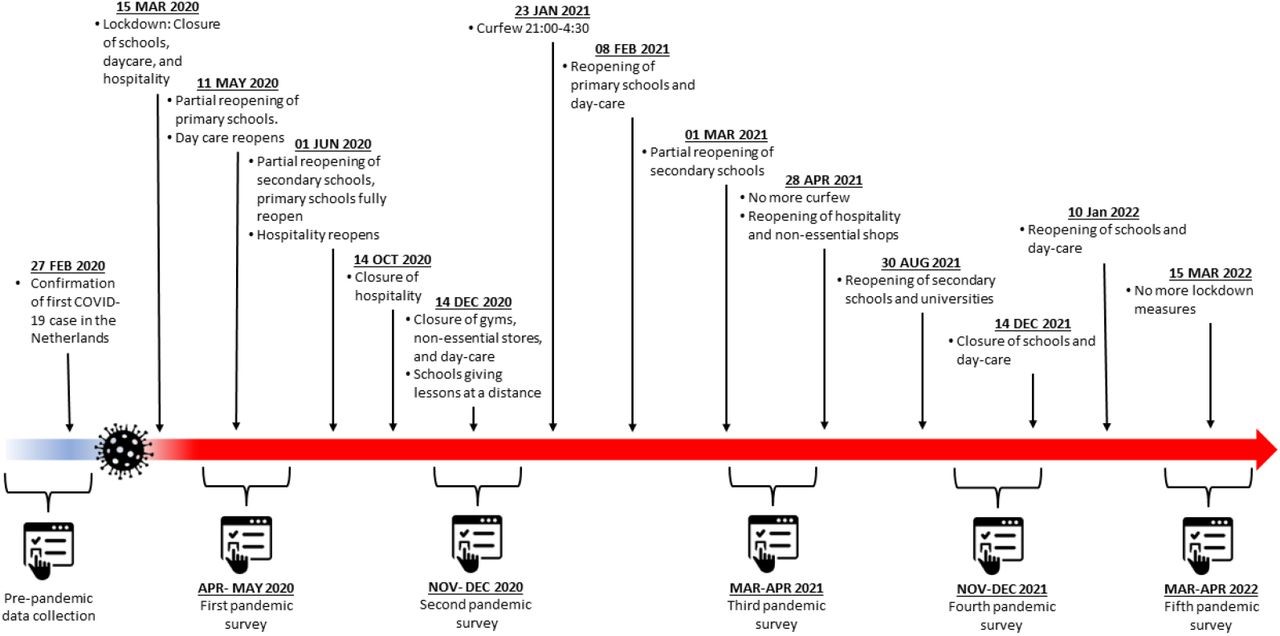 Figure 1. Timeline of measurement occasions and lockdown measures.
Abstract will be presented in the Thursday Afternoon Poster Presentations: Slot 7 on 20 October, 3:45 pm – 4:00 pm. 
This newsletter editorial represents the views of the author and does not necessarily reflect the views of ISOQOL. 
How to Submit a Newsletter Editorial
Do you have something to share about health related quality of life and patient-centered outcomes? We want to hear from you!
Learn More

The International Society for Quality of Life Research (ISOQOL) is a global community of researchers, clinicians, health care professionals, industry professionals, consultants, and patient research partners advancing health related quality of life research (HRQL).
Together, we are creating a future in which patient perspective is integral to health research, care and policy.