The ISOQOL Annual Conference mobile app is now available for download!
Annual Conference attendees can get the most out of their time in Calgary by utilizing the mobile app, powered by EventMobi. This free app includes features that let attendees connect and message with fellow conference attendees and presenters, create a conference schedule, access the complete final program, and more.
To begin using the Annual Conference app today, follow these steps:
Download EventMobi from the App Store or Google Play Store. (It's free!)
Open EventMobi and enter code ISOQOL23 to add the conference to your upcoming events.
Click "View Event" and enter the email address you used to register for the conference.

If this is your first time logging in to the EventMobi app, you will be asked to create a password. You will then be asked to check your email to confirm your email address. Once your email has been confirmed, re-open the app to log in.

Once logged in, you may be prompted to complete your conference profile. Then you will see the conference app's home page.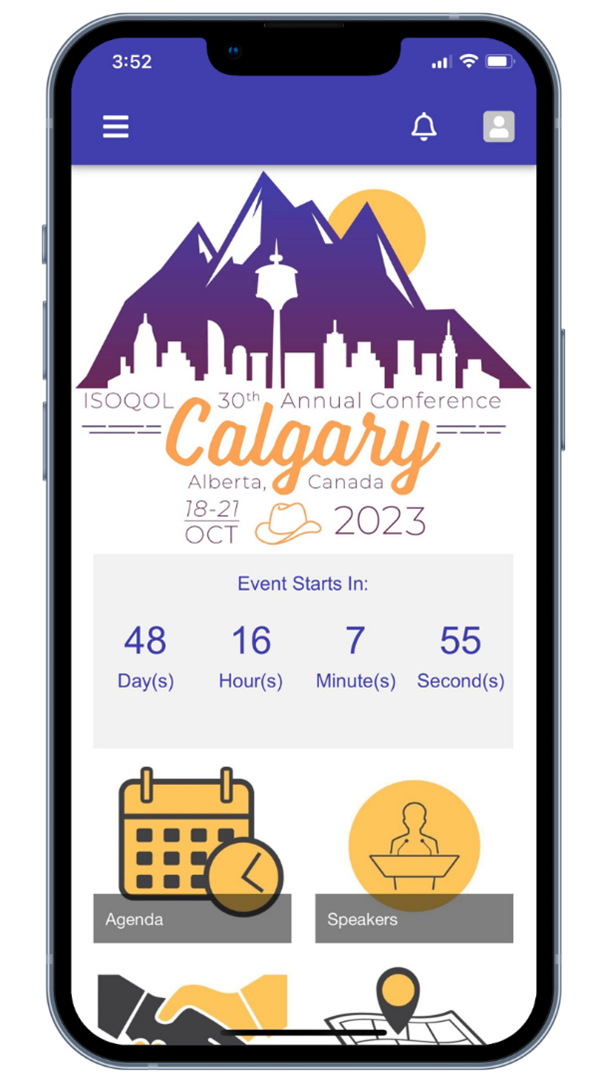 We recommend refreshing the app often to ensure you have the latest updates to the program and attendee list. To do this:
Select the    icon in the top left corner of your screen to open the app's menu.
Tap the "Update Now" button at the top of your menu whenever it appears.
You can also update your app by tapping the "Refresh" button at the bottom of the menu.
If you wish to view the conference program on your computer, you may access the conference platform here.
Take advantage of the mobile app and start planning your schedule now! View the conference program under the Agenda page in the app. You can even build your own personal schedule and add sessions you want to attend to your agenda. For more details on creating your personal agenda, visit the FAQ page in the app, also available here. The FAQ page is a great resource for other features in the mobile app and other conference-related topics.
We look forward to seeing you in Calgary!

The International Society for Quality of Life Research (ISOQOL) is a global community of researchers, clinicians, health care professionals, industry professionals, consultants, and patient research partners advancing health related quality of life research (HRQL).
Together, we are creating a future in which patient perspective is integral to health research, care and policy.