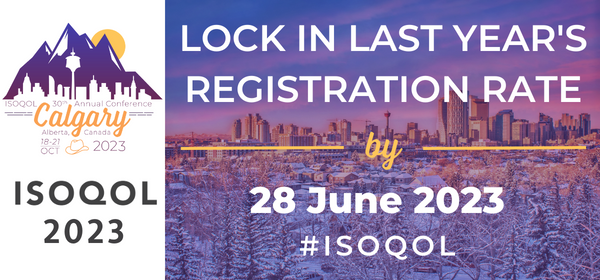 ISOQOL 30th Annual Conference
18-21 October 2023 | Calgary, Alberta, Canada
The ISOQOL Annual Conference is the premier learning and networking opportunity for researchers, students, clinicians, regulatory agency professionals, and industry representatives engaged in health related quality of life research.
This year we are increasing conference registration rates as part of our commitment to expanding and improving ISOQOL member benefits. This rate increase does not affect students, patients, retirees and individuals from developing countries. Click here to learn more about the Board of Directors' decision to increase registration rates.
With this increase in pricing, we are introducing a new Early Bird rate as a way to lock in last year's registration rate. Be sure to purchase registration before 28 June 2023 to take advantage of this special offer.
Conference registration will open in May 2023, so stay tuned!
Capturing HRQL in Under-Represented Populations
With the recent emphasis on equity, diversity and inclusion, it is more important than ever to capture the perspectives of all members of a given population. It is no longer acceptable to simply include the easily accessible majority while ignoring important under-represented groups. This plenary session will focus on strategies to engage populations who, for a variety of reasons, traditionally are resistant to complete PROMs and/or enroll in research. In addition, it will highlight cultural differences in the way that questions should be asked and how the results should be used and interpreted.
Cutting Edge Research
The Cutting Edge Research plenary session features some of the highest-ranked, innovative research from ISOQOL abstract submissions. In particular, these abstracts reflect research that truly "pushes the ISOQOL envelope" in providing new and different ways to look at quality of life.
The role of legacy tools: is newer always better?
In recent years, there has been a proliferation of quality of life measures. These may be novel tools to address new clinical areas, or ones which were developed to improve upon existing legacy tools. In this panel debate/discussion, presenters will highlight the good, bad, and ugly of legacy tools. Using examples, they will also explore the pros and cons of moving from legacy tools to more modern ones. Regardless of which camp you may align with, all attendees will be treated to a lively discussion and question and answer period.
Success stories in PRO implementation
Despite the recognized importance, need, and value of patient-reported outcome measures, their implementation within health services remains challenging. This plenary session will feature examples of successful implementation of PROs at the micro (patient), meso (health system), and macro (policy) levels. In addition to presenting how PROs are used, panelists will highlight the strategies that researchers, clinicians, and administrators have utilized to address barriers they encountered, as well as lessons learned along the way.

The International Society for Quality of Life Research (ISOQOL) is a global community of researchers, clinicians, health care professionals, industry professionals, consultants, and patient research partners advancing health related quality of life research (HRQL).
Together, we are creating a future in which patient perspective is integral to health research, care and policy.