Jens Lehmann, MSc
Medical University Innsbruck
For ISOQOL 2021, our team from the Medical University of Innsbruck shared our research on a web-based patient portal, which we developed for patients with hematological malignancies – cancers affecting the blood, bone marrow, and lymph nodes – visiting our local outpatient clinic. I am happy to have contributed to the conference and delighted that we won the Student Poster prize! Here, I share the research story behind the poster in brief.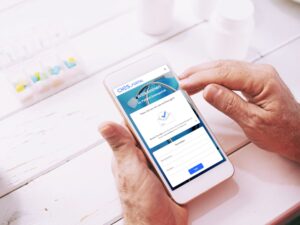 Patient portals are an up-and-coming part of cancer care. We know that it is important to monitor patients' health not only in the hospital, but also at home, especially if they receive outpatient care. In the last few years, some impressive and well-conducted clinical trials showed the benefits of systematic health monitoring via electronically assessed questionnaires for patients' health, wellbeing and survival. This is often done via electronic patient portals, which can also offer additional features like disease-specific or supportive information and self-management advice for patients at home. Despite their potential benefits, patient portals are still rarely implemented in cancer clinical care. There is still little knowledge on how such a portal should be designed and existing portals are very heterogeneous in form and function.
Since 2016, we systematically assessed patients' health status via structured questionnaires at our local hematological outpatient clinic using tablet computers. In 2018, we supplemented the assessments at the hospital with a web-based patient portal running on the Computer-based Health Evaluation System (CHES, www.ches.pro). We wanted to create a portal that enables the remote monitoring of patients' health status via questionnaires and also offers self-management advice based on the results of the questionnaires, in order to support patients at home. We set up a study to evaluate patient use and patient perceived benefits of the portal. As patients are the end users of the portal, it should be tailored to their needs and wishes.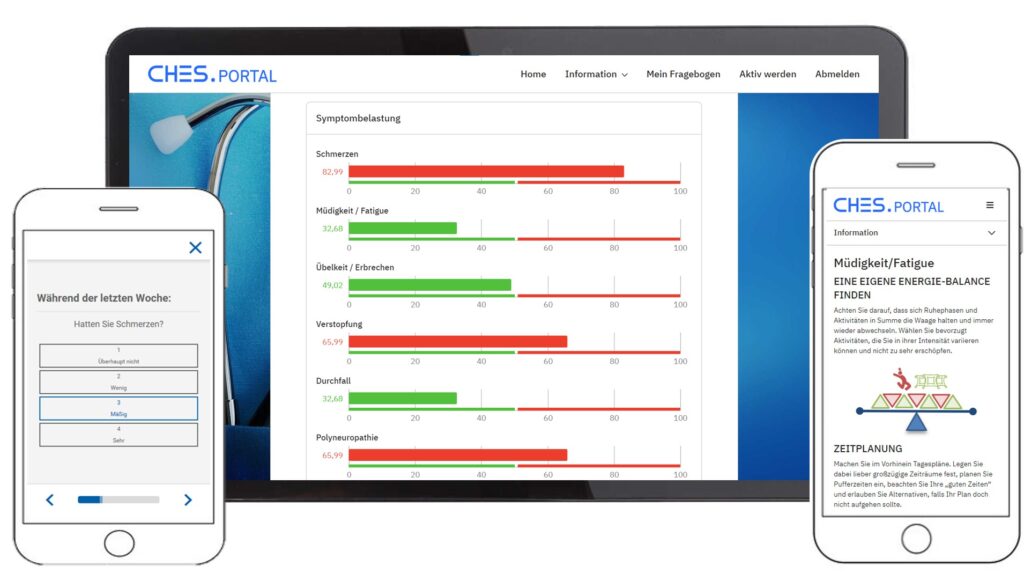 Over the course of two years, we conducted semi-structured interviews with over 100 patients and analyzed their feedback on the portal and user patterns in the portal itself. We got a lot of valuable input from patients and were able to see which aspects and features of the portal were useful to them. For detailed findings, see the full paper at https://www.jmir.org/2021/6/e26022. This helped us improve the portal and how we used it to communicate with our patients. The findings from our study can also serve as a useful resource for other researchers and clinicians looking to create and implement future patient portals.
The study presented was part of my PhD, so it was a particularly important study for me. I worked closely with an amazing team of researchers, mentors, doctors, nurses, and IT developers – so it was really a team effort! I am especially happy to see the conclusions of the study and feedback from patients now integrated into the next version of our patient portal and health monitoring, which we set up in the second half of 2021. In this new program, we are monitoring patients' health status even more closely using treatment-specific questionnaires, and we have implemented an onsite, daily screening of the results via a trained onco-nurse.
In conclusion, it is exciting to see how electronic methods can be used to assess and integrate the patient perspective on their health into their care and treatment. A lot of interesting research is being conducted on this topic and I am sure that we will see many more patient portals in the future.
You can find the full paper accompanying the Poster at https://www.jmir.org/2021/6/e26022. If you have any questions or want to reach out, feel free to contact me at jens.lehmann@i-med.ac.at.
This newsletter editorial represents the views of the author and do not necessarily reflect the views of ISOQOL. 
How to Submit a Newsletter Editorial
Do you have something to share about health related quality of life and patient-centered outcomes? We want to hear from you!
Learn More

The International Society for Quality of Life Research (ISOQOL) is a global community of researchers, clinicians, health care professionals, industry professionals, consultants, and patient research partners advancing health related quality of life research (HRQL).
Together, we are creating a future in which patient perspective is integral to health research, care and policy.