Submit by Friday, 8 July 2022 at 11:59 pm CDT
Accepted abstracts will be presented as digital posters during the conference and published in the Quality of Life Research Journal Abstract Supplement alongside the traditional abstracts. All submissions related to the theory, methods, and application of health related quality of life research are welcome.
Due to the uncertainty of people's ability to travel during the general abstract submission period, Leadership has chosen not to restrict this year's late-breaking submission period to abstracts with a specific type of data. Therefore, for 2022 only, ISOQOL will allow regular abstracts to be submitted during the late-breaking abstract period as well.
Submissions for digital late-breaking abstracts are open now through the firm deadline, 8 July 2022 at 11:59 pm CDT. 
*All accepted abstract presenters (including digital poster late-breaking abstracts) must register for the full Annual Conference and present in-person during their scheduled time.
2021 Digital Poster Hall by the numbers
For both virtual Annual Conferences, the digital poster hall has been a huge success! The digital extended access allows conference attendees to view more poster presentations than at a typical poster hall. ISOQOL is excited to host a digital poster hall for this year's conference in Prague!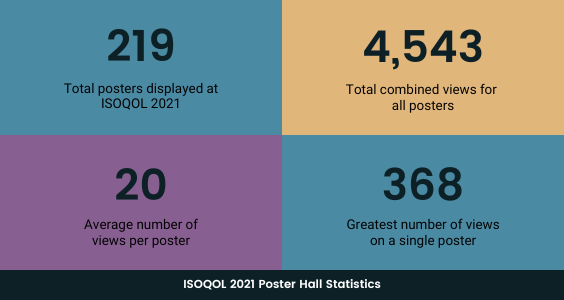 The International Society for Quality of Life Research (ISOQOL) is a global community of researchers, clinicians, health care professionals, industry professionals, consultants, and patient research partners advancing health related quality of life research (HRQL).
Together, we are creating a future in which patient perspective is integral to health research, care and policy.