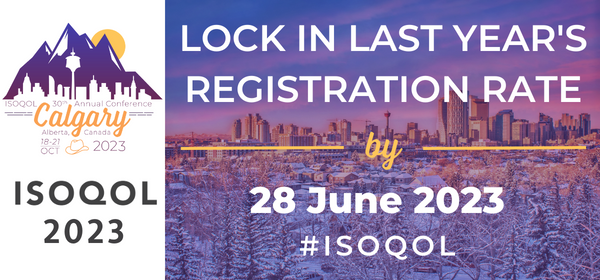 ISOQOL is excited to announce that registration for the 30th Annual Conference in Calgary, Alberta, Canada is officially open!
This year's conference theme is 30 Years of ISOQOL: Quality of Life – making it relevant. The 2023 Annual Conference will be held 18-21 October 2023, in Calgary, Alberta, Canada.
The ISOQOL Annual Conference is the premier learning and networking opportunity for researchers, students, clinicians, regulatory agency professionals, and industry representatives engaged in health related quality of life research. Four exciting plenary topics, along with symposia, workshops and roundtables, have been added to the Scientific Program, with more details to come soon.
Visit the conference website for registration rates and additional details to help you plan your travel.
Registration Benefits
Registration for the 2023 Annual Conference includes:
ISOQOL membership dues**
Access to scientific content from Thursday – Saturday, including all plenary sessions, oral and poster sessions, and symposia
Access to the exhibit area and the Welcome Reception on Wednesday evening
Morning coffee service daily, from first session through conclusion of morning poster session, Thursday – Saturday
Afternoon coffee break daily, Thursday – Saturday
Buffet lunch daily, Thursday – Saturday
Special Interest Group meetings, SIG Symposia, and other special events. Please be sure to sign up for these events in advance during the online registration process.
**Conference registration includes ISOQOL membership dues. If you are already an ISOQOL member, you'll receive 2024 membership along with continued access to full member benefits. If you are not yet a member, conference registration includes prorated 2023 membership plus 2024 membership with access to full member benefits.
Tickets for other special events and education sessions are available to purchase during registration as well. View the full schedule here for further information.

The International Society for Quality of Life Research (ISOQOL) is a global community of researchers, clinicians, health care professionals, industry professionals, consultants, and patient research partners advancing health related quality of life research (HRQL).
Together, we are creating a future in which patient perspective is integral to health research, care and policy.