You have joined the International Society for Quality of Life Research (ISOQOL) – welcome! As an ISOQOL member, you have access to join any of ISOQOL's Special Interest Groups (SIGs).
SIGs allow you to connect with professionals who are either in your geographic area or have a similar career focus, for networking and collaboration. Joining a SIG allows you to make the most of your membership by finding your community.
Follow these steps to join a SIG today!
Log in to your ISOQOL Member Profile. (Learn more about accessing the Member Profile here.)
Select the SIG Sign-Up tab.
Check the boxes next to the SIGs you want to join.
Save your changes.
ISOQOL staff will send you an invitation to join Teamwork, where you can interact with fellow members.*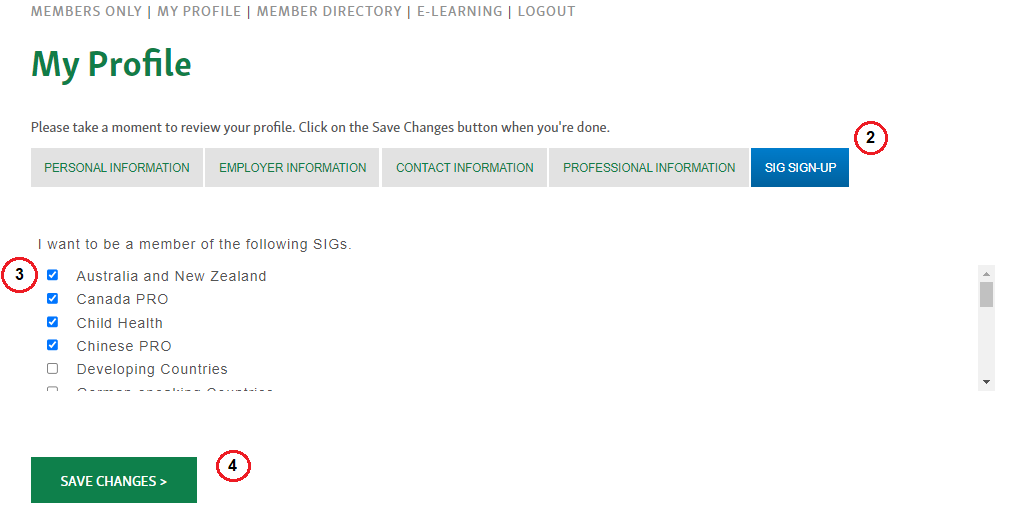 There is no limit to the number of SIGs you can join. Keep in mind that SIGs are most useful to everyone when all members are engaged, and actively engaging is a great way to earn a leadership role!
If you wish to remove a SIG from your profile, simply uncheck the box next to the group you wish to leave.
*Staff checks for SIG membership changes about once a month, so if you want immediate access, please follow up with an email to info@isoqol.org.

The International Society for Quality of Life Research (ISOQOL) is a global community of researchers, clinicians, health care professionals, industry professionals, consultants, and patient research partners advancing health related quality of life research (HRQL).
Together, we are creating a future in which patient perspective is integral to health research, care and policy.