If you are requesting the ISOQOL Member Discount when submitting your work to the Journal of Patient-Reported Outcomes (JPRO), please select the following:
On the payment tab of Editorial Manager choose the "I believe that I am covered by an institutional membership arrangement and wish to request institutional payment or discount (as applicable)" option for payment.
Then choose the "I have a BioMed Central membership account number" option.
You will then need to insert the code provided by ISOQOL into the "BioMed Central account number:" box, and then press confirm.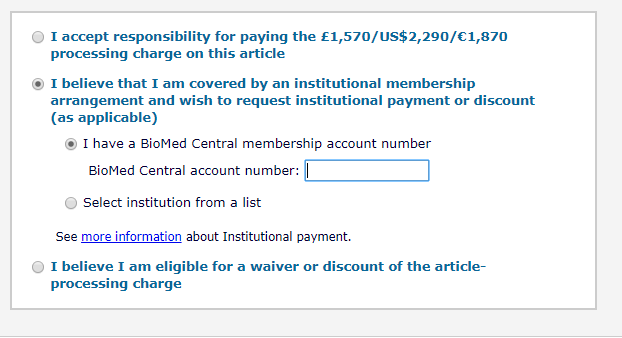 JPRO Submission Rates
ISOQOL members receive a 30% discount for the submission and processing of accepted articles. If you are from a low-income country, you may be eligible for a waiver. The ISOQOL member discount code is available on the Members Only page of the ISOQOL website.

The International Society for Quality of Life Research (ISOQOL) is a global community of researchers, clinicians, health care professionals, industry professionals, consultants, and patient research partners advancing health related quality of life research (HRQL).
Together, we are creating a future in which patient perspective is integral to health research, care and policy.