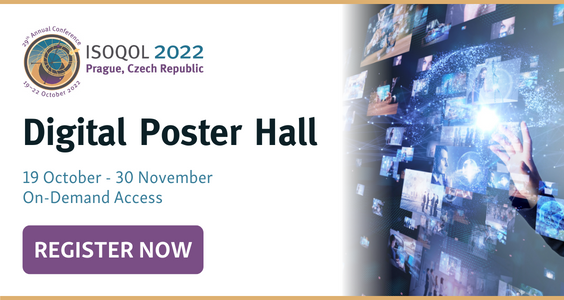 If you were not able to attend the 2022 Annual Conference in Prague, registration and access to the digital poster hall is available through 30 November. Registration includes the following:
Access to the digital poster hall only, through 30 November 2022
Bonus access to the conference platform for virtual networking opportunities
Register today to access the 170+ digital posters that showcase the health related quality of life research of the ISOQOL community.
If you previously registered for the in-person conference or as a virtual conference attendee, click the "Registrant Access" button below to view the digital poster hall.
Please note: Plenaries, symposia, oral sessions and ticketed events were only available for in-person attendees and were not recorded. Virtual attendee registration does not include ISOQOL membership dues.
Virtual Attendee 2022 Annual Conference Registration Rates
ISOQOL Member: $100 USD
Non-Member: $175
For information on becoming an ISOQOL member, click here.

The International Society for Quality of Life Research (ISOQOL) is a global community of researchers, clinicians, health care professionals, industry professionals, consultants, and patient research partners advancing health related quality of life research (HRQL).
Together, we are creating a future in which patient perspective is integral to health research, care and policy.